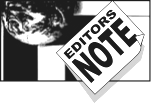 Fall quarter is nearly ended, and the holidays are upon us. For many, this is a time of reflection and celebration. In that spirit, this issue of the
IT Times
celebrates fall quarter accomplishments, highlights new services, and serves up a big helping of practical advice.
To highlight the exceptional contributions that women technologists make to the campus, we are launching a new feature called Women in Technology. This month, we spotlight the work of Bo Botelli, the systems administrator in Advising Services.
Be sure to keep an eye out for the next IT Times, as well. In late January, we will run a special issue focusing on instructional technology services and accomplishments at UC Davis.
Starting with this issue, for our readers who prefer to read the full content of the IT Times in print, we have created a PDF file (1 MB, 66 pages) for easy download and printing.
Best wishes to all IT Times readers for a warm and happy holiday season.