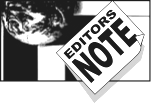 Welcome back! This Back-to-
School issue highlights summer changes and accomplish-
ments and looks forward to the upcoming academic year.
As predicted in our last issue, IT was very busy over the summer. Most notably, we continued efforts to improve access to services through internal realignment of business units. We've also prepared for the new year, making significant improvements in computer labs and assisting at the Summer Advising orientation of more than 4,000 entering students.
For the coming year, we take a look at how the new Instructional Technology and Digital Media Center is gearing up to assist faculty and how the campus is preparing to implement UC Davis' Student Computer Ownership Expectation by Fall 2001.
For your convenience, we also created an IT Times listserv (ittimes@ucdavis.edu). To have a summary of the latest IT Times delivered right to your computer, be sure to subscribe. See our instructions on how to subscribe.
As always, we welcome your comments and suggestions.