It's the beginning of the quarter, and Chemistry 194, UC Davis' largest lecture hall, is brimming with students: filling every seat, sitting on the steps, standing in the back, waiting in the foyer. They are all hoping to get into Nutrition 10, a popular general education course. The class is popular, mainly due to Dr. Liz Applegate. Her enthusiasm, expert knowledge, and informal style make her undergraduate classes the nation's largest, with enrollments exceeding 2,000 annually.

"Chem 194 has 440 seats," says Applegate, "and this quarter there are about 280 students on the waiting list."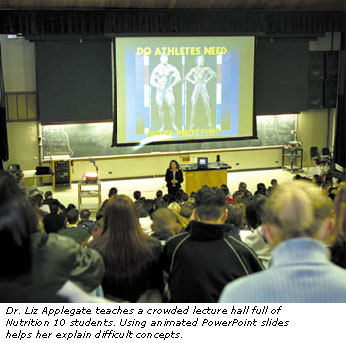 Long known as an excellent teacher and a recipient of the UC Davis Academic Federation Award for Excellence in Teaching in 1997, Applegate is always looking for new ways to make her classes more compelling. Lately, she has been working with Mediaworks, Information and Educational Technology's newest department, to create PowerPoint animations that illustrate complex concepts and engage students in new ways.



Helping Students Connect Concepts to the Real World

Most students take Applegate's nutrition classes to fulfill a general education requirement in science. But Applegate feels this is her opportunity to share the latest, practical nutrition information with them.

"There are always new products on the market, like Fat Blocker for example, or new discoveries about nutrition. I can share this information with students to help them practice better nutrition in their own lives," she says. "That makes the information more relevant and useful to them."

To do this, Applegate constantly researches studies, products and popular perceptions of nutrition topics. "People Magazine is perfect for me. If they have a story about anorexia, I can use that in my class, and my students will relate to it," she says. "I have to keep my information current."

She also works hard to help her students tie nutrition concepts to their daily lives and go beyond memorizing concepts to applying them to real life issues.

Her efforts help balance the challenges that come with large classes. "If you lose one student's attention, and they begin fumbling with their things, it can be like a chain reaction, and all 500 students can lose attention," she says.

Another challenge Applegate faces is explaining difficult concepts to her students, most of whom have not taken any science classes since high school. "Some of these topics are really tough," she admits. "Even doctors can be confused by this information." With the combination of large classes, short attention spans, and difficult concepts, Applegate has had to adjust her teaching style. "You have to talk in sound bites if you want them to learn anything," she says. "You have to be entertaining."



Step One: Visuals and Analogies

Early on, Applegate realized students responded well to her analogies and use of visual aids. So she called on Steve Oerding, an artist at Mediaworks, to create illustrations of some of her analogies. Oerding began drawing arteries and digestive tracts, cells and proteins. Using a traditional slide projector, Applegate displayed the slides, one by one, to her students. As useful as the slides were, it was still hard to describe processes and concepts. "I was doing all sorts of crazy things with a laser pointer trying to describe how things work," she explains. Students would stop listening to her lecture, quickly writing down all of the bullet points on her slides.



Step Two: Animated Presentations

After working with Applegate for a while, Oerding suggested she use a laptop to present the slides in PowerPoint, which would enable them to animate the processes and concepts and make them more interesting. "Students now are from the Nintendo generation," says Oerding. "They need to see things moving to understand and process information."

While Applegate liked the idea of animating her slides, she had some reservations about using the animated presentations in her classes. She was apprehensive about her computer abilities and afraid of losing her students' attention if there were problems with the slides.

"I was nervous that there would be glitches," she says, "but I was also nervous when I used traditional slides that something would be wrong with the projector. I just like to be prepared." Eventually, she decided that the advantages of using a laptop and animation outweighed the risks, so she began to push her boundaries for the benefit of her students.

She started working with her department's Technology Support Coordinator, Jennifer Ruhe, to learn how to use the laptop and set it up to work in the classroom. "I really don't know much about my computer's configuration," Applegate admits, "but I know where to plug it in and how to use PowerPoint to display the slides. That's really all I need to understand." Still, as Applegate has used the slides, she has become more familiar with the program. She can move her presentations around in PowerPoint and make small edits without Oerding or Ruhe's help.

To resolve any problems with her laptop or the media equipment, Applegate keeps a TA on hand to call the Quick Response Team and troubleshoot the problem while she lectures without slides. "There have been glitches," she says, "and I've called the Quick Response Team. But it was nothing that I could not deal with and it wasn't any worse than if the light bulb burnt out on the slide projector." Still, just to be sure, for her first lecture this quarter, Applegate brought traditional slide copies of her presentation. "I wouldn't do that for every lecture," she says, "but I like to be ready on the first day of class."





The Test

Applegate tested out the laptop presentations in a few of her lectures last summer. In the fall, Applegate taught half of the quarter with traditional slides and the other half with animation. She sees positive results from her efforts. "Students are more attentive," she says. "They also seem to understand the concepts better and they do better on tests."

To quantify her impressions, Applegate asked her students on class evaluations whether they preferred traditional slides or animation. The students overwhelmingly preferred the animations. "The animations are more helpful with things like digestion," wrote one student. Another wrote, "Computer animated presentations make learning more fun and interesting." Encouraged by these results, Applegate asked Oerding to create animated presentations for each lecture. This quarter, for the first time, all of her lectures will be accompanied by animated slides.





Taking It To The Next Level: Video

Applegate has more ideas for ways to enhance her presentations. "I would like to work with Steve on integrating video into these presentations," she says. She thinks that video can help her show students how osteoporosis makes you shorter. "Right now I have a picture of a bone with holes in it. The students don't act interested until I tell them that, because they have bones with holes, they can actually shrink. I think that a video can demonstrate that more dramatically."



Results Count

For now, the animated slides are meeting the students' needs and helping them understand nutrition. These are exactly what kind of results Applegate is looking for. "I want my students to think about what they learned in my class when they are at the grocery store," she says. "I want them to understand and use the information I give them. These animated slides are helping me do that. It's definitely worth it."

The students sitting on the steps and standing in the doorway are a testament to that fact. "I am taking this class for fun because I heard that it was really interesting," said Simone Guazel, a fourth-year Nature and Culture student who was lucky enough to find a chair in the back of the lecture hall. "Dr. Applegate is really energetic and passionate about what she teaches and the animated slides make it so much easier to understand and apply the information in my life."