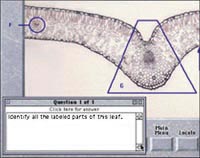 In the world of multimedia, bandwidth is gold -- you can never have too much of it. "Video and animation are rich media files. "They can take up a lot of room on the bandwidth, and that can be a limiting factor in delivering multimedia," explains Bob Burnett, digital media specialist for the Mediaworks infrastructure group. "But now we have better compression programs and we are no longer constrained by telephone modems," he adds. By combining the new compression technology with increasingly common digital subscriber lines (DSL) and cable modems, Mediaworks' clients can reach a much wider audience with better performance.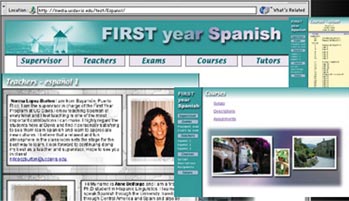 Just recently, the Center for History, Society, and Culture approached Mediaworks with a challenging project. They wanted to record, edit, and distribute a series of lectures planned for campus. Using the latest technology, Mediaworks was able to record and deliver the content live over the Internet, while at the same time archiving a digital copy for on-demand use after the event. Using synchronized multimedia integration language (SMIL), Mediaworks added names, titles, and instant random access, without any post-production editing. As recently as a year ago, using the best technology at the time, this same project would have resulted in taped lectures with post-edited names and titles. The material would have been distributed through dubbed copies at the library or other on-campus locations.

"A few years ago, you could see things on CD that you couldn't see on the Internet," Burnett stated. Now, using newer software like Flash, Mediaworks can take advantage of the lower bandwidth-consuming qualities of vector-based artwork to animate sequences and graphics for easy delivery over the Web. This opens the door to a world of instructional possibilities that includes Web pages with interactive quizzes, custom-designed online courses, and animated presentations.

In fact, Burnett predicts that in three to five years, the Web will look more like TV. "A lot more Web pages will display video with a little text, rather than a lot of text with a little video," he says.

Burnett, who spent several years in the Bay Area's commercial multimedia industry, says with just a hint of pride, "When an instructor comes to Mediaworks, they're getting service as good as it gets."