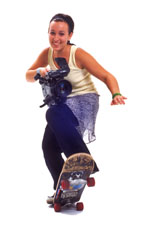 Emerging from many walks of life and representing the complex mixture of our campus community, the student employees at Information and Educational Technology (IET) are nothing if not diverse. Showcasing the diversity that IET student employment is known for, Morgan Flores is an ideal representative of the many different kinds of students who comprise the unique IET team.

Flores, a student camera operator working in Mediaworks, is a sophomore majoring in sociology and women's studies. Since she is not sure what she wants to pursue after graduation, working for IET helps her explore possibilities. Many of her tasks involve classroom camera shoots of lectures, seminars, and guest speakers. Flores equates the artistic ability to create excellent compositions in photos to the same ability it takes to create balance and harmony in drawings. "I really like doing the three-camera music shoots," she says, "when I get to film symphonies or concert bands for a live television production." Her job is both exciting and challenging. Flores has to be always on her toes since she receives all her directions from her supervisor over a headset and then needs to make sure the work is done properly.

At Mediaworks, Flores' hard work has not gone unnoticed. "She's a natural!" says Joe Rodriguez, who directs her on three-camera shoots. "She works fast and gets great shots. This job is difficult because it requires fast reflexes, the ability to take direction on a moment's notice, and the ability to compose in the camera on the fly. It's amazing she is so good and has never done it before."

An avid skateborarder, Flores is in the process of initiating a women's skateboarding club on campus. Not surprisingly, her motto is, "Skater Chicks Unite."

Even though she is a sociology major and had little experience as a camera operator, she has an important role within IET. Students do not have to be technical gurus to be a part of IET. As with Flores, they only have to be willing to learn, commit, and simply have fun!