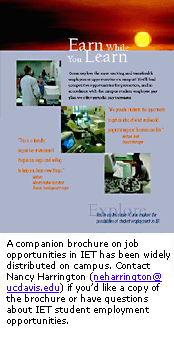 Information and Educational Technology (IET) has launched a new
Student Jobs Web site
especially for UC Davis students interested in working with technology.
Students play an important role in IET: more than 100 student employees staff computer rooms, develop software, work with faculty on educational technology projects, answer questions at help desks, write and edit documents, design Web content, and much more. In some cases, academic credit and/or eventual career employment are available to IET student employees. Many positions include training and development opportunities as a part of the job.
Students don't need to be technical gurus to work in IET, but they gain real-world experience, guidance, and mentorship that will enhance their academic careers, as well as their competitiveness for employment after graduation. For instance, students work alongside staff on some of the campus's most important technologies such as
MyUCDavis
,
E-Recruitment
, and
Bovine Online
. IET's new Student Jobs Web site (
http://iet.ucdavis.edu/studentjobs/
) details special programs and current employment opportunities. A companion print brochure is available at main distribution points around campus.