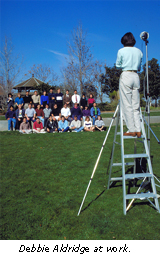 Whether it's 4 a.m. at the milking barn or at a cleanup operation with the fire department's HAZMAT unit, Debbie Aldridge, senior photographer at IET Mediaworks, has probably seen every facet of this campus through the lens of her camera. In her 21 years on campus, she has seen parts of the campus that few others see. And often, she has very little idea what scene she will encounter until she arrives. "That's what makes this job unusually fun and exciting," Aldridge says. "I really get to think and compose on the fly."

Most of Aldridge's work has been for research and public relations, but with the recent restructuring of Mediaworks, increasingly she is applying her talents to support the instructional goals of the campus.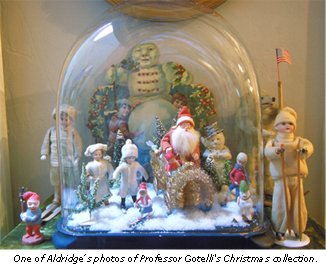 "At Mediaworks, we have the best of both worlds," says Aldridge. "We're connected with the campus in a unique way -- we interact with the best in research and teaching, but we also get to see the campus in such a personal way."

Documenting Visual Presentation Professor and Design Gallery Director Dolph Gotelli's famous Christmas Collection is a good example. Aldridge recently photographed hundreds of intricate Christmas objects displayed in Gotelli's home. An international expert and lecturer on the subject of Christmas, Christmas rituals, and Santa Claus, he had not displayed the entire collection for five years because of its large size. Now, thanks to Aldridge's work, he will be able to incorporate slides of the various displays into his lectures.

Aldridge graduated from the Brooks Institute of Photography in Santa Barbara. There she embraced the Brooks philosophy of "learning by doing." She brought it with her when she started a two-week internship at UC Davis in 1980 and has been practicing it here on campus ever since. "I really appreciate being a photographer with Mediaworks because it gives me an opportunity to see what the university is all about -- how far reaching it is," she said.

For more information about IET Mediaworks services, go to http://mediaworks.ucdavis.edu/, call 752-2133 or drop by their campus location at Surge II, by the Silo.