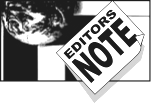 Web sites seem to be cropping up all over campus. In this issue, we highlight several.

MyUCDavis: The pilot has ended and the campus computing coordinating councils recently made a recommendation to maintain this site.

Computer Ownership: A new site on the upcoming Student Computer Ownership expectation is also up and ready to answer parents' and incoming students' questions.

Direct Deposit: Faculty and staff now can use a Web site to request reimbursements be deposited directly into their bank accounts.

Finally, in a Web exclusive, we cover a pilot e-recruitment site.

Also in this issue, we run the second column in a series on women in technology, and we launch a new column on security issues. This one outlines what we can all do to combat computer viruses.



Next Issue

Our next issue will come out in mid-June. In it, we will preview all of IET's summer projects and the changes that will be awaiting us in the fall.

As always, we welcome comments, questions, and suggestions at ietpubs@ucdavis.edu.




magna cum laude into Tier 1 status.









Last modified: