Computer Room Usage Continues To Rise
By Donna Justice

Recently released statistics for Fall Quarter 1999 reveal students' reliance on campus computer rooms continues to rise at UC Davis, with a 9 percent increase in logins and near 100 percent utilization of most facilities during the day (see http://lm.ucdavis.edu/pubs/labrep/fall99 for a full report). This graph represents data collected for 12 Lab Management computer facilities: Rooms 1, 21, 27, 241 and 247 Olson, 1102 Hart, 1131 Meyer, 163 Shields Library, the M.U. Station, TB 114 and301A and 301B Surge IV (two other facilities were closed for renovation). The rooms are at near-full utilization from 9 a.m. to 6 p.m.
According to the latest detailed statistical summary, the 14 computing facilities operated by Information Technology's Lab Management were operating at near maximum capacity between the hours of 9 a.m. and 6 p.m. from September 30 through December 18, 1999. These figures reflect statistics taken from Monday through Thursday, because the labs are consistently used less by students and faculty on Fridays.
Logins also increased significantly, from 257,890 in Fall 1998 to 281,908 in Fall 1999, a 9 percent increase. According to Lab Management's analysis, because the number of computers available on campus did not increase at the rate of logins during that time period, it may be safe to assume that more students than ever are waiting in line to use open-access labs.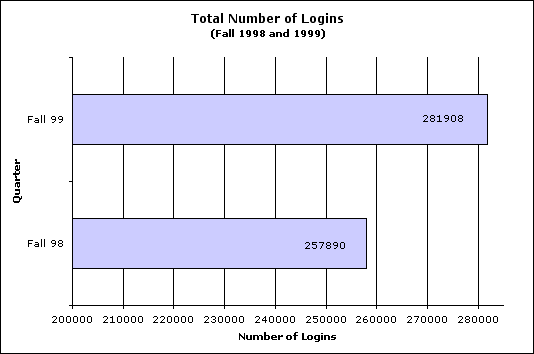 Computer room usage increased by 9 percent from Fall 98 to Fall 99. Future increases are expected to remain small because usage has peaked at nearly 100 percent and no computer room is planned for the near future.
These data seem to contradict other collected data that indicate students own or have access to computers off campus and should therefore be growing less reliant on computer labs. In fact, the reverse may be the case as more students rely on computers to communicate and gather information and as more faculty require coursework to be done on computers.
According to the report, most students use the labs to conduct research via the Web, access online documents, check email, and do simple word processing, tasks that may need to be done several times during the day. If this is the case, even students with their own computers at home may have an increasing need to access a computer while on campus. Until access to ports becomes more ubiquitous on campus, this trend is likely to continue. (See "More Options for Mobile Computer Users" for more information on projects to improve on-campus access to the network for mobile computer users.)
Compared to Fall 1998, faculty are not using the labs as much. However, the number of computer rooms reserved has increased, with 64 percent reserved for classes from September 30 to December 18, a record percentage for class reservations. At this rate, only 36 percent of the time are campus computer rooms available for individual use. No wonder students are feeling the crunch.

Other Highlights

Upgraded TB114 upgrade: As part of continuing efforts to improve facilities, Lab Management began renovation of TB114 (opened in 1997 as the first open-access lab) in late summer 1999. The renovation included installing new tables, upgrading the PC hardware, and changing the room configuration to better serve students.

Surge IV renovation: Lab Management intends to complete the renovation of Room 307 Surge IV and open it for campus use next quarter.

Creation of an audio room in 1154 Meyer and upgrade of one digital video editing suite: A digital audio editing room accessible to faculty, students, and staff is scheduled to be installed and ready by the end of Winter Quarter. This room will provide the ability for audio digitizing, manipulation and editing as well as music composition and editing. Currently, there is no audio editing hardware and only basic software available to the general campus community. In addition, a new digital video editor is scheduled to be installed. It will replace an older video editor and meet the growing demand for video editing equipment from the general campus community as well as faculty who use video editing and other video projects as a part of their curriculum.

Extending the life of older equipment: A process was created to transition older computer and printer equipment to UC Davis departments. The equipment, typically older than four years, could no longer operate effectively in the high-use computer labs and classrooms, but it is operational and should function well in a less demanding environment. Campus departments can now complete a form and submit a request for older surplus equipment. The program is intended to give departments a fair opportunity to request the surplus machines and ease the administrative process of the equipment transfer.
For more information on available equipment and how to make requests for your department, contact Todd Van Zandt, IT-Lab Manager, at labmanager@ucdavis.edu.