How Safe is the New Business Architecture?
The Campus IT Security Coordinator on Identity Theft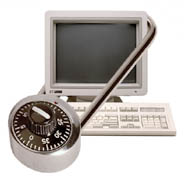 As we prepare to develop and implement the New Business Architecture (NBA), you might be asking how security is built into the NBA. It is tempting to perceive a paradox: While the NBA promotes the simplification of business processes via integration of campus computing systems, security measures are often associated with conservative, complex mechanisms that limit data availability and promote data integrity. Indeed, this evolving computing environment leads us to ask whether security measures remain a part of the big plan. Now that identity theft is among the fastest growing crimes, security is not just a luxury; it's a necessity.

Along with the NBA, UC Davis recognizes this necessity and seeks to use security technology to improve internal and external work processes. For example, by establishing a more secure computing environment, we will be better able to share information within the campus and with our business and educational partners. Our goal is to simplify processes even as we work to secure them. For instance, when you use a single secure authentication system, such as Kerberos (rather than multiple identification methods and passwords for all your different computing processes), we can better maintain the security of your logon identity and identify security violations much faster.

A confidential password means a safe identity. After all, in the computing environment, your password is your identity, helping to determine what you are authorized to do, from using a credit card to accessing a computer application, such as DaFIS. Identity theft occurs when someone pretends to be you and uses your personal information to his/her advantage. Apparently, identity theft is becoming a reality as consumers and institutions report losses of almost one billion dollars per year due to identity theft. Your personal information can be retrieved by a mouse-click on the Internet or can be intercepted from your mailbox or recycled trash. Once your personal information is stolen, someone can use the information to establish credit accounts in your name or, possibly, access one of your online accounts in your name. Authentication solutions such as Kerberos help to ensure that your password, which is used to confirm your identity, cannot be retrieved from the network and reused by some transgressor.

The campus has already started to enable security technology in a number of areas. For starters, portal access is gained exclusively with the use of the secure Kerberos passoword. We're also proposing security measures for campus units desiring to implement e-commerce applications in addition to establishing a central authorization and settlement system for Internet credit card transactions. To ensure continuous attention to this matter, a team of people are identifying and developing long-range authentication methodologies.

As always, security projects such as these draw broadly from campus constituents for input. Contact raono@ucdavis.edu to get involved.