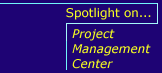 CCS Uses Digital Editing System to Enhance Videos
At Creative Communication Services (CCS), fast forward and rewind are going the way of cutting and splicing in the edit suite. Videos are now edited in a non-linear environment, thanks to new state-of-the-art digital video editing equipment.

Although digital video editing systems have been in use for the past few years, earlier systems available on campus were not capable of producing high-quality video or digitizing video in "real-time". However, the new ImMix "StrataSphere", a Scitex system, allows editing of broadcast-quality video, digitally.

Analog video can be digitized off videotape onto the hard drives. Once the video is digitally available, the "Sphere" acts as a media file server with easy, quick, and simultaneous access to files. The benefits of this digital editing system are many. The system is designed with open architecture from file structure to storage media for compatibility with other products. As always, digital technology offers greater ease in the movement, modification or manipulation of images, a real bonus while editing during production.

CCS media production specialists work with staff and faculty to design and develop video presentations for classroom instruction, professional presentations, and multimedia programming. This new system, which is compatible with other digital technologies, makes it possible to incorporate graphics, animation, and video in the digital domain. Faculty and staff who wish to make use of this service should call CCS Instructional Media at 752-6516.