Now Hear This:
Uploaders, Downloaders Need to Mind Their Ps & Qs When It Comes to MP3s
by Matt Peters
Sidebar: Myths About MP3s
What Matt Bradley was doing had a certain sense of "coolness" to it. It also had a definite sense of illegality.
Last fall, the third-year transfer student moved into a dormitory, giving him access to a ResNet connection. A system administrator for more than two years before attending UC Davis, Bradley was also a music fan, interested in electronic music and composition. Merging his interests in music and computers, he created an MP3 distribution site.
MPEG-2 Layer-3 Audio -- or MP3 -- is a file format used to store sound digitally. MP3s -- the most popular type of music distribution files on the Internet -- keep files relatively small, have near-CD quality, and are easily distributed over the Internet.
"Having a fast 24/7 connection was too much of an opportunity to miss, so I decided to put up an MP3 FTP site," says Bradley, who is in the process of shifting his major from physics to computer science and engineering.
"I downloaded a shareware FTP server, registered a domain name... and I was set, not having spent a penny," says Bradley. "I had the site up and running the first week of the fall quarter. I set up the server to allow only a few connections and to limit the bandwidth so I didn't soak it all up and slow down everyone else's connection."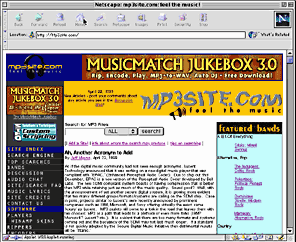 Mp3site.com is one source of legal MP3s.

Within days, the number of users and the bandwidth had peaked. Starting with less than 100 MP3s, his site soon had received more than 10,000 "hits," uploads had swelled his MP3 collection to 500, and a 2 gigabyte hard drive dedicated to the site was full.

"I had my ICQ (chat) number on the site and I received messages from all over the world from people who were using my site," says Bradley. "I communicated with one guy from Russia several times. I thought the fact that people from all over the world were logging in to my computer sitting in my dorm room was very cool."

It was. But again, it also was illegal.

Like many students, Bradley "knew that the legality was a sketchy issue. I was under the impression that as long as the distributor (me) was not making any profit it was legal." Illegal MP3 sites violate copyright law, according to the Recording Industry Association of America, a nonprofit trade association. "Because the Internet is a new frontier, there is widespread misconception about what is allowable in the context of music and the Internet," reads an RIAA release.

"If you don't hold the copyright to a sound recording, you can't reproduce the work or distribute it...This means that, as a general rule, you can't copy it onto a server, download it, upload it, save it to your hard drive or put it on a disk."

Bradley says his MP3 site was found by someone working for the RIAA, and that the RIAA then informed the UC Davis Division of Information Technology.

"I was reading my email or something one day when all of a sudden I completely lost my Internet connection," says Bradley. "About five minutes later, there was a knock on my door and I got a package hand delivered to me by my RA. It contained a notice saying that my ResNet port had been deactivated because of 'information that raises questions concerning your use of your residence hall ResNet privileges.' It was very vague, but I figured it must have been because of my MP3 site. I figured IT was mad because of the amount of bandwidth I had been using. I didn't think the content of the site was the issue.

"I went back to my room and reconnected to the Internet through dial-up with my modem and unregistered my domain name," says Bradley. "When I went in to meet with (the Student Judicial Affairs officer), I was expecting nothing more than being told to take down my site and a warning to not do it again. I would tell them that I had already taken my site down and everything would be ok. I was wrong."

Donald Dudley, a Student Judicial Affairs officer, says an average of eight to 10 students each year are referred to the Student Judicial Affairs office for distributing MP3s illegally. "The number of referrals has increased with the use of the Web and, of course, with access to a high-speed connection through ResNet," says Dudley.

"In general, computer misuse cases are referred to IT and SJA when system administrators notice interference with normal system operations," says Dudley, who is not allowed to discuss particular cases. "A lot of traffic through a Web site or an FTP site would be one cause.

"Most students know they are doing something they shouldn't," says Dudley, continuing. "They may not think it is a big deal, nor realize that there are consequences to violating campus policy concerning the use of university resources.

"Access to computing resources at UC Davis is a privilege. That privilege needs to be used responsibly or else one may lose it," he says. "(One) can also risk their future as a UC Davis student. Most ResNet misuse cases involve MP3 sites."

Anyone found guilty of willfully infringing a copyrighted work can be sentenced for up to five years imprisonment, fined up to $250,000, or both.

"I ended up getting probation, deferred suspension, no ResNet connection for one year, and 15 hours of community service," says Bradley. "I did have the option of rejecting that contract but then I would have a formal hearing and there was no way of knowing what would happen there; I may have ended up with more severe punishments."

Resources: