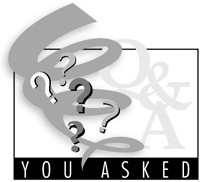 Q. Is there a policy somewhere that gives the rules on linking to, and/or endorsing, a company on an official UCD Web site? What about from the other side: Is there a problem if a company uses the UCD logo and states that we endorse them? I thought I saw a draft of something awhile back addressing these and other Web-related issues.
- Asked recently on the Technology Support Program list
A. Timely question. The UC Davis World Wide Web Policy Committee is addressing these and other Web-related issues. The committee is composed of faculty, staff, and administration representatives with a shared interest in how the Web can be used effectively and responsibly in furthering UCD's mission of teaching, research, and public service.
Committee members have recently drafted a proposed UCD Policy and Procedures document on Web pages. The draft provides guidelines on the use of Internet resources for the conduct of university business and on Web page contents. Once approved, the policy will be posted on the Web at http://mrak.ucdavis.edu/web-mans/ppm/welcome.htm (look for Section 310-70). Directly relevant to the question at hand are the following excerpts from the draft policy:
Advertising: "Information on campus pages that suggests that the University endorses any commercial enterprise must be avoided. The use of commercial corporate identifying symbols or logos on campus pages may be appropriate only when the University has a contractual arrangement with the subject organization (1) for support of teaching, research, or public service activities or (2) for the delivery of services or products to UCD, when the use is beneficial to the delivery of said services or products. Web publishers may acknowledge donations or contributions by creating links to selected organizations/corporations that are contributors to UCD. Links to noncommercial sites, and public-service pages of commercial sites, are allowed. For relevant policies, see Section 270-25."
Use of University seals and logos: They are permitted on "official" UCD Web pages, (i.e., those maintained by the Public Communications Office), and on "unit" pages, (i.e., academic or administrative units). They are not permitted on pages owned by "affiliated organizations, individual faculty, students, or staff." The draft also refers readers to the existing policies on the use of the University name and seal (Section 310-65) and logo (UC Davis Publication Standards Guide).
One class of exceptions to the rule barring "affiliated" pages from using campus seals and logos: Registered student organizations, particularly sports-related groups like the Aggie Pack, will be allowed to use the new athletic logos and marks unveiled at the Aggie Auction on May 1.
Jan Conroy, manager, Editorial/Design, and Pat Kava, manager, Client Services, IT-Information Resources, contributed to this article.