New Vice Provost Looks to the Future

John Bruno, the long-awaited new Vice Provost for Information and Educational Technology, has arrived at UC Davis, beginning his new position on September 1.
An expert on information systems engineering and management, as well as a veteran professor of computer science at UC Santa Barbara, Bruno comes to UC Davis with a wealth of university and technology experience.
As Vice Provost, he manages the myriad forms of information and educational technology used throughout the campus, including academic and administrative computing services; data, voice and video communication services; and media and print services.
Bruno arrived at UC Davis just a few months after a comprehensive review, the five-year Administrative Unit Review (AUR) Report, determined that the Division of Information Technology was being pulled in too many directions to fully serve the campus.
The report recommended that the future vice provost work with deans and vice chancellors to sort out their respective roles and responsibilities for meeting the campus's widely diverging information technology needs.
Bruno acknowledges the Division of Information Technology serves a broad clientele in a time of constant change.
"We confront a rapid pace of technological advance and the penetration of information technology throughout society," Bruno states. "Our challenge is to harness information technology to advance the mission of the campus with respect to instruction, research, and outreach."
Bruno is currently meeting with various deans and vice chancellors, while also meeting with IT units to gain a more complete understanding of the division. Current projects in the works include a proposal for a "Technology and Media Services Unit" to provide support for faculty and the pending recruitment of a Chief Operations Officer, as recommended in the AUR Report.
Bruno is in the process of reviewing all of the projects and departments in the Division of Information Technology and stresses clarity and service as future goals for the Division. "The campus looks to IT as a policy advisor and a service provider. We should give clear, unbiased recommendations and support that tie directly into the academic mission of UC Davis," he states. "We are in the business of customer service, and the students, faculty, and staff at this university are our customers."
The decision to move away from the balmy, oceanside UCSB campus was initially a difficult one for Bruno, who has two daughters, ages 10 and 14. However, after a trip with his family to the Davis area, his concerns were quickly allayed.
"My wife fell in love with the Davis community and was impressed with the excellent school system for our children," Bruno shares.
Bruno was also impressed by the reputation of the Davis campus. "UC Davis is a first-rate research university, with nationally renowned graduate programs in Veterinary Medicine, the Biological Sciences, and Engineering. The law School and the UC Davis Medical Center also greatly enrich this diverse university."
After an initial adjustment period, both daughters are doing well: "There were some tears the first few nights, but they have quickly made new friends," he said.
Bruno replaces Carole Barone, who was UC Davis Associate Vice Chancellor for Information Technology from the time the division was created in October 1991 until the summer of 1998. Barone left to become a vice president of EDUCAUSE, a national association for information technology in higher education.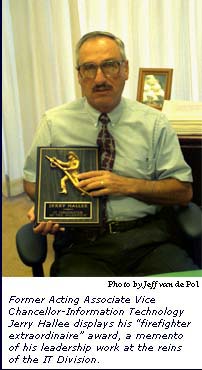 After Barone's departure, "fire-fighter extraordinaire" Jerry Hallee, Special Assistant to Provost and Executive Vice Chancellor Grey, held the proverbial reins for over a year, leading the division through a busy and productive schedule. During this period, the position and the job responsibilities were reviewed, and the title was changed to Vice Provost for Information and Educational Technology.
"John Bruno is an excellent match for this position," said Robert Grey, Provost and Executive Vice Chancellor, in an official press release. "He will bring to the campus and the position a broad knowledge and understanding of information technology, an academic perspective on the issues to be addressed, and in-depth familiarity with the UC system. Chancellor Vanderhoef and I are very pleased that he is joining our leadership team."
Bruno, 58, completed his academic degrees in electrical engineering at The City College of New York. Before joining UC Santa Barbara, he was an assistant professor at Princeton University and an associate professor at Pennsylvania State University.
A faculty member at UC Santa Barbara since 1977, Bruno was chair of the Computer Science department for a total of seven years. He was also Director of the UCSB's Center for Computational Sciences and Engineering from 1987 to 1996. Most recently, he was a member of the Academic Senate Committee on Computing, Information Technology and Telecommunications Policy, as well as a member of the UCSB Information Technology Board.