Computer Security Incidents
Project Team Starts Gathering Statistics
The chart below provides a snapshot of the computer and network security incidents that were reported on campus in the months of July and August. "Many incidents go unreported, so the numbers are not truly accurate," says Doreen Meyer, programmer with IT-DCAS and Incident Response and Reporting Project Manager. "They are meant to reinforce in all of us the sense that security incidents do occur on our campus," says Meyer. Some incidents generated more mail than others. "The winner was a mail relay incident that generated 55 complaints."
The Incident Response and Reporting group has started to gather security statistics on a regular basis. We will publish them in the IT Times as they become available. For more information on the Incident Response and Reporting Project, see the Security Web site at http://security.ucdavis.edu/.
Campus Network and Computer Security Incidents
July-August 1999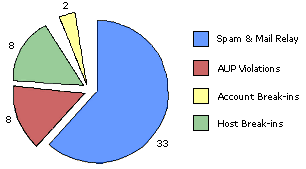 Source: Incident Response and Reporting Project
Key

Spam: unsolicited bulk email and open mail relays. For more information on this topic, see http://itexpress.ucdavis.edu/quicktips/spamQT.html.

AUP: violations of the UC Davis Computer and Network Acceptable Use Policy, accessible on the Web at http://it.ucdavis.edu/policies.html. Include inappropriate postings, warez (the upload/download of illegal software, particularly games, from ftp sites), and commercial activity.

Account break-ins: hijacked accounts on the main campus (ISUN) systems.

Host break-ins: compromised systems, primarily via the /tmp/bob exploit. (see the security alerts posted at http://security.ucdavis.edu/alerts.html.)
Note: In addition to the security incidents depicted in the figure, an average of 2.5 port scans were reported daily. Port scans are scans of the entire UCD network, generally looking for exploitable system weaknesses.