IT Managers on the Move
Kent Kuo Finds New Home . . . at Home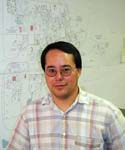 "Still home, just moving residences." This is the message Kent Kuo, former Assistant Director of Information Resources (IR), wrote to the IR staff when he accepted the Associate Director position in Communications Resources (CR) on September 1. In his new role, Kuo assumes some of the same responsibilities he had in his previous department: budget, human resources, and administrative operations. He is also faced with new challenges, such as developing a solid background on networking and telecommunications technologies, coordinating CR's business units, and fostering a project management function.
Says Kuo, "I am pleased with what all of us in IR have accomplished since the unit was formed seven years ago. I expect CR will provide new opportunities, and I am excited to be working with a similarly dedicated and quality staff on projects that will advance the campus needs and priorities."
In addition to integrating a new team of analysts to CR, Kuo will be working on a variety of projects including UCDNet2, the selection of a document management solution for the campus, negotiations for a new UC-wide Oracle contract, and the Instructional Technology Funds (ITF) projects.
Kuo can be reached via email at ktkuo@ucdavis.edu or at his new phone number: 530-754-6197.
IT Manager Returns to East Coast

Margaret Byrne, former manager of Information Technology's Academic Support Programs (a group comprised of Lab Management, the Arbor, Computer and Printer Repair, and Prototyping) has accepted a position as Director for the Center for Learning Technology at Old Dominion University in Norfolk, Virginia. Old Dominion is known as one of Virginia's top doctoral research institutions.
At Old Dominion, where she will start on November 1, Byrne will be a "faculty administrator" with teaching and research obligations.
"My responsibilities will include teaching resources, instructional design, faculty training and support, a faculty lab, grantsmanship, instructional materials and tape distribution, a unit called Academic Television with a full television studio and satellite uplink, and various other duties related to building a vision for teaching and technology," says Byrne.
One of her first responsibilities will be to work on an interactive video streaming project that intends to transform at least 30 courses that are part of degree programs.
Reflecting on her years at UC Davis, Byrne adds, "The faculty here are terrific, and I've made many friends I know I'll miss. The campus has made the right decision to bring faculty in as head of IT. I know that the progress that we've made will continue."